Installed by the UK's leading installers with over 1,000 5 star customer reviews

Over 1,000 5 star customer reviews
"Simply Amazing!"
"From start to finish the process was fast efficient and painless. The installers arrived promptly and worked efficiently to have the job done in just two hours start to finish. There was no mess left behind and the finished product looks superb. I look forward to many more hours spent in my conservatory than has been impossible in the past. Thank you ConservaHeat Conservatory Roof Insulation"
Designed to keep your conservatory warmer in winter and cooler in summer, ConservaHeat insulation is a high performance true aluminium multi-layered blanket designed by insulation experts Ecohome-Insulation. Your conservatory can instantly be transformed in to an all-year-round usable space.
ConservaHeat Conservatory insulation is a true aluminium multifoil conservatory roof insulation system and is recommended to be Installed as a fully sealed system by professional & authorised ConservaHeat installation specialists. Conservatory Insulations operates a network of ConservaHeat installation teams. You pay ZERO VAT when you have ConservaHeat installed. If your Conservatory is too cold in winter & too hot in summer, we can help.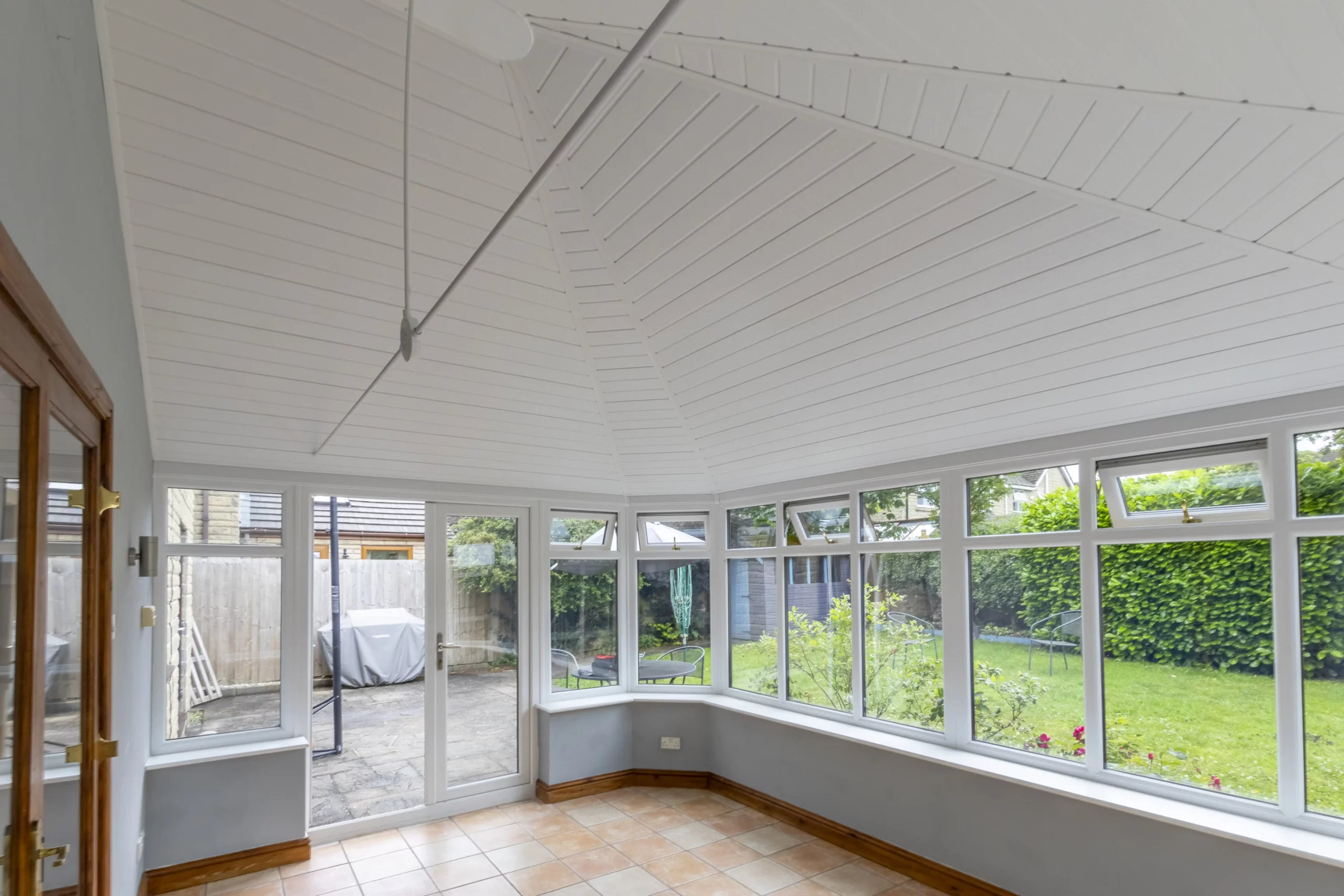 Robert Bowler
Great finish .Very tidy. The two worked hard. Looks better than I hoped. Looks twice as large. They were very tidy I would highly recommend. R Bowler.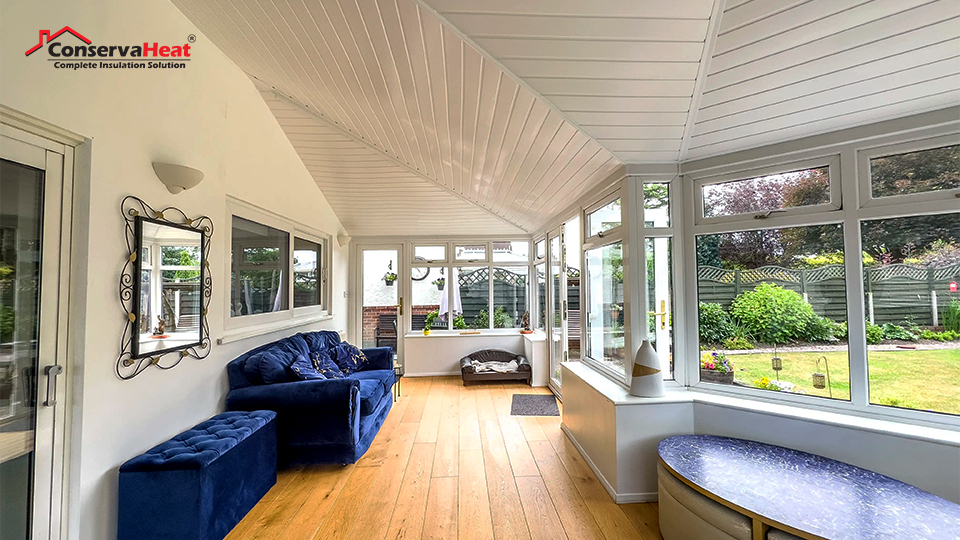 J Oram
My Mother had a fantastic job done on… My Mother had a fantastic job done on her conservatory roof In Wittering West Sussex last week by J&J --she could not wait to show me today ! --she was overwhelmed by their efficiency kindness and a great job done ! Thankyou from us both .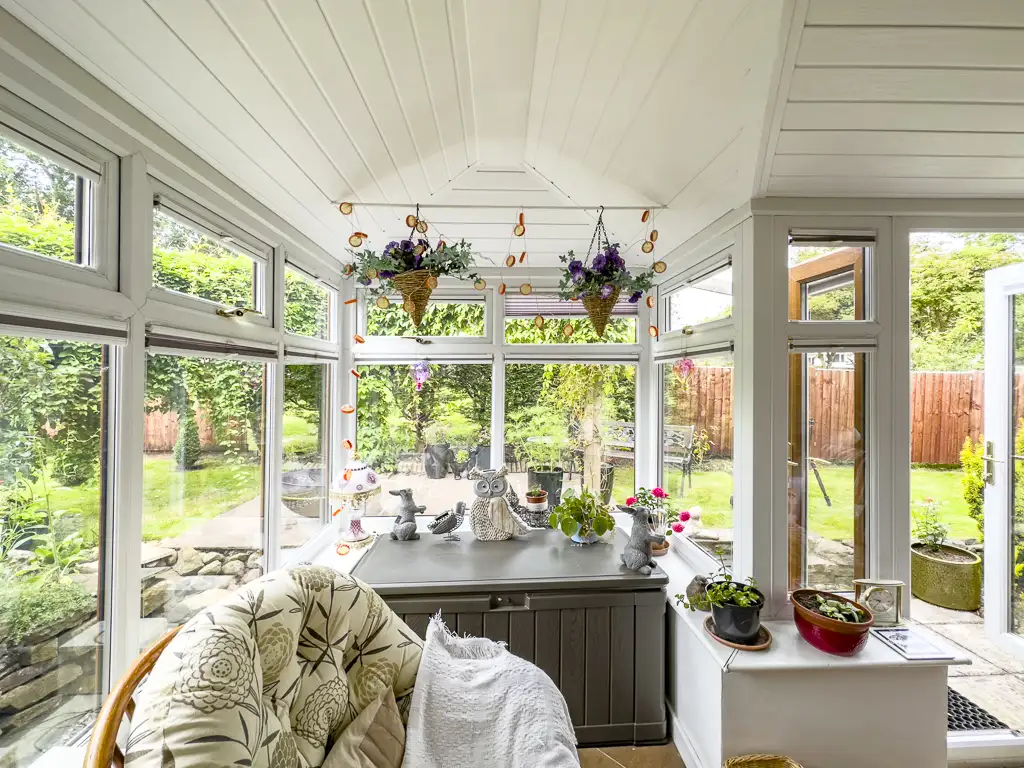 Michelle Laycock
Had my conservatory roof insulated… Had my conservatory roof insulated today. From making the first contact phone call, to the sales visit, booking the work, the guys who fitted it, all exceptional people I dealt with and the result is first class, I love it. I would highly recommend these people a pleasure to deal with.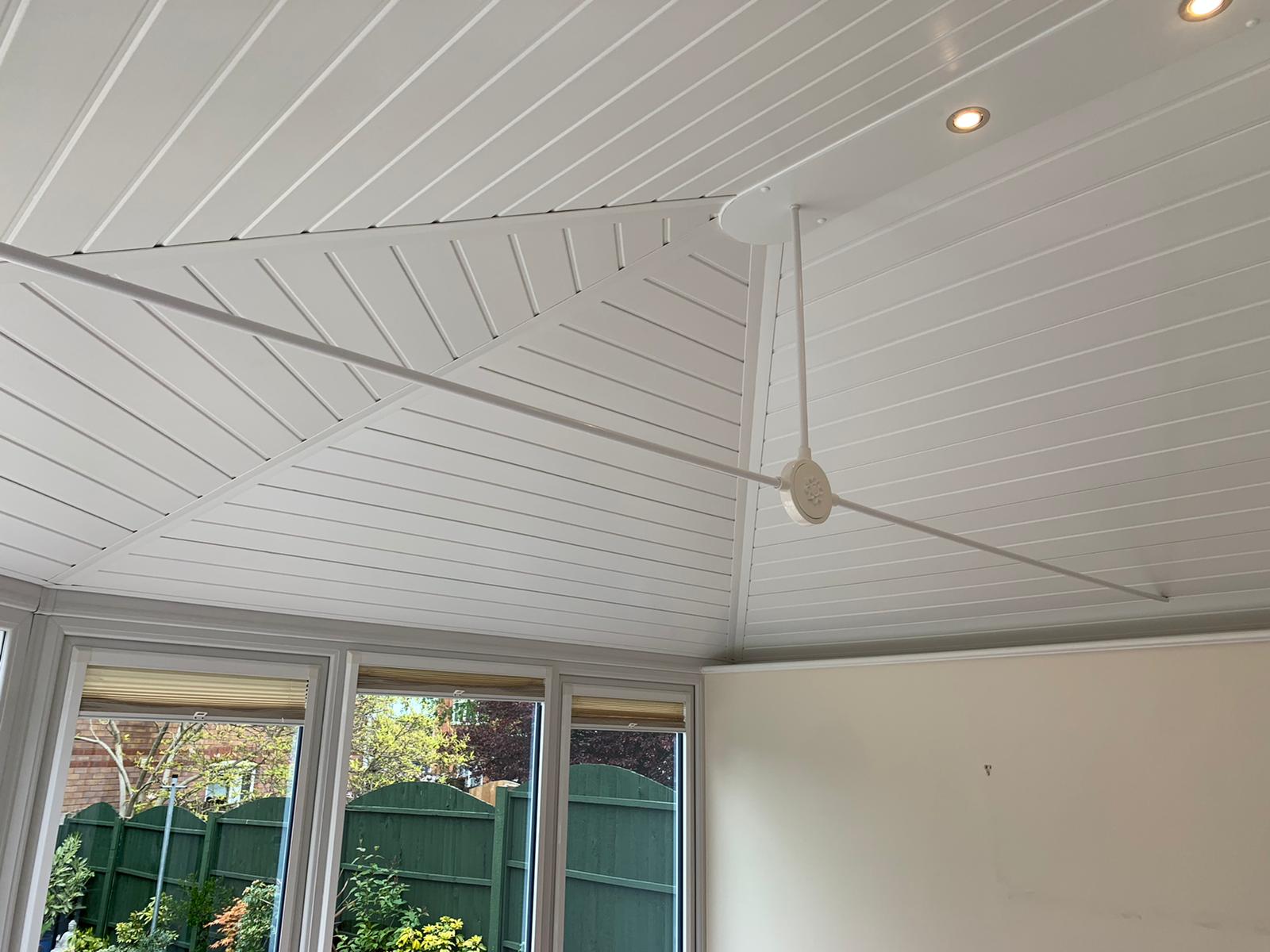 James Liley
Excellent service from start to finish including call centre, support staff (who kept us updated), George the Surveyor and John & Jesse (James) who carried out the work, which was done with minimal disruption and mess and everything tidied away on completion. Has transformed our conservatory into a new garden room which we will be able to use all year round. It looks great, inside and out. Thanks 🙂
Is your Conservatory too cold in winter & too hot in summer? We can help
Get Your Free, No Obligation Survey & Quotation
Fill in the form below and a member of the team will call you back within 1 hour during working hours
Reclaim Your Conservatory
Benefits Of Conservatory Roof Insulation
The key benefits of ConservaHeat conservatory roof insulation system are –
Warmer in winter
Cooler in summer
Reduced rain and traffic noise
Reduced condensation
Only 5% VAT
10 year guarantee
Reduced sun glare
Energy saving
Reduced heating bills
Significantly cheaper than a new tiled conservatory roof
UK manufactured
If your roof panels are glass, we will install a thermafrost tint to the glass first meaning the insulation will not be seen from the outside.
Over 30,000 installations have been carried out of our high performing conservatory ceiling insulation across the UK.
See the video below to see how ConservaHeat insulation can transform your conservatory.
For a quotation to have your conservatory insulated click here.
You can find out more and read some great blogs about ConservaHeat on our partner site HERE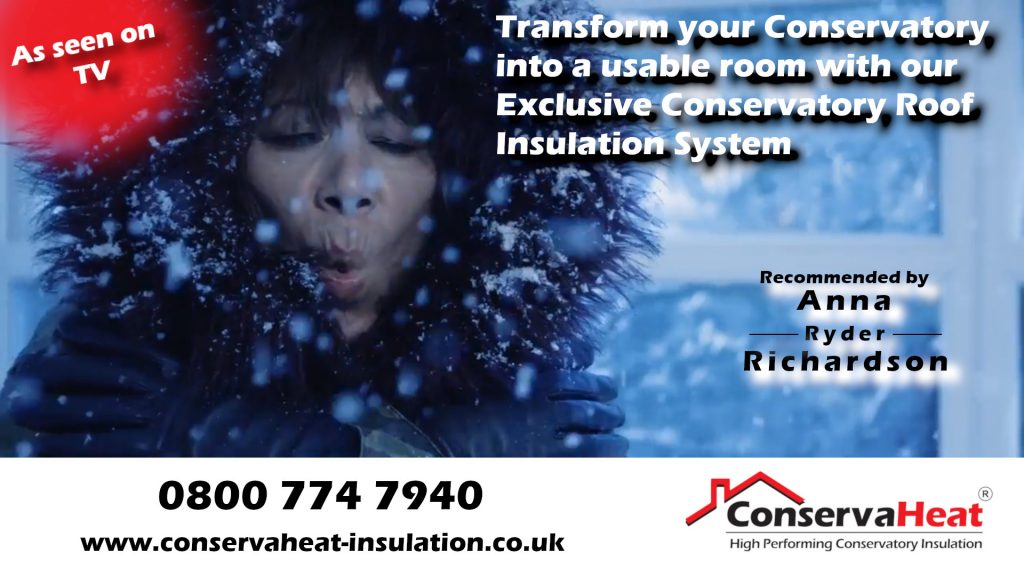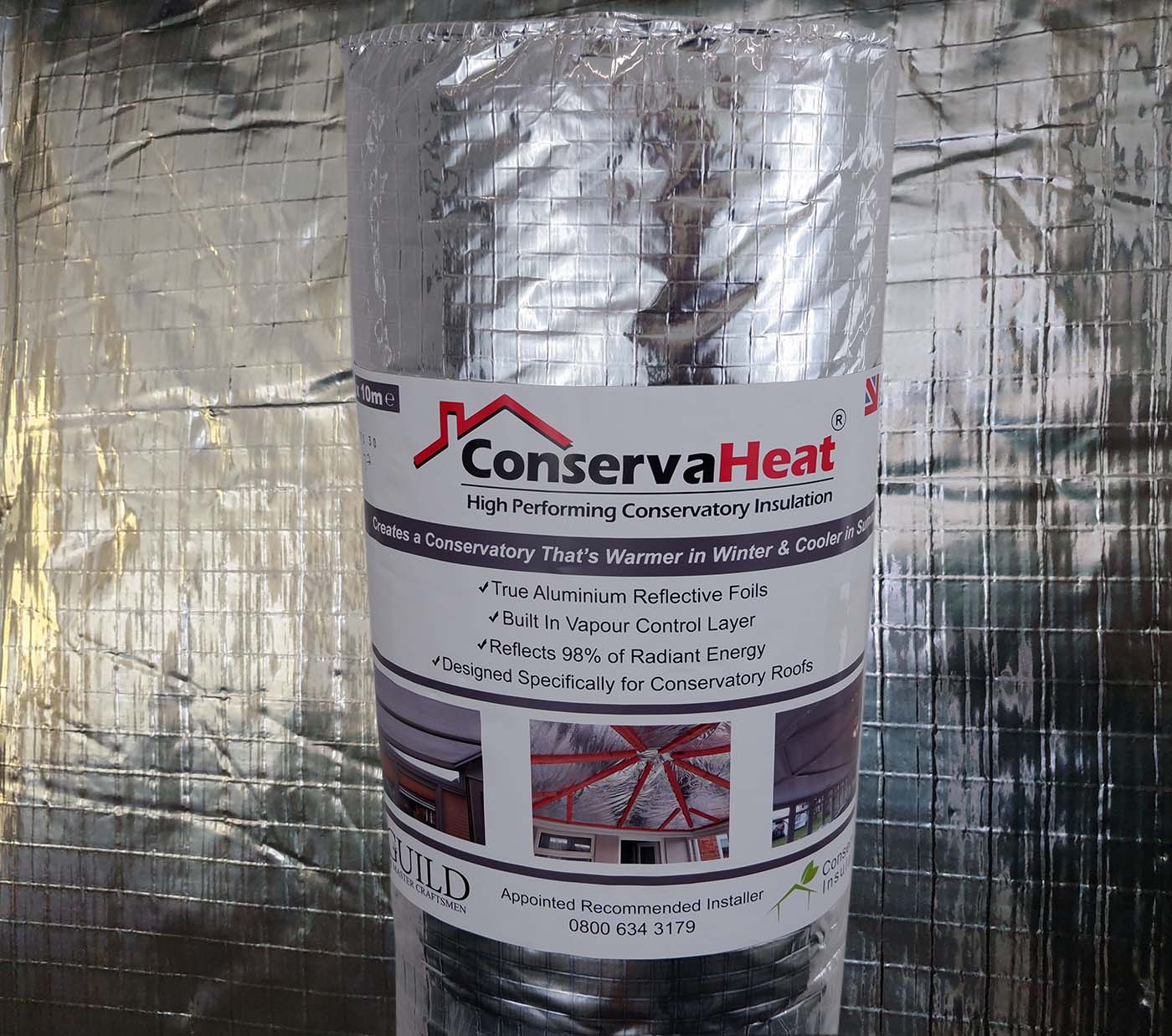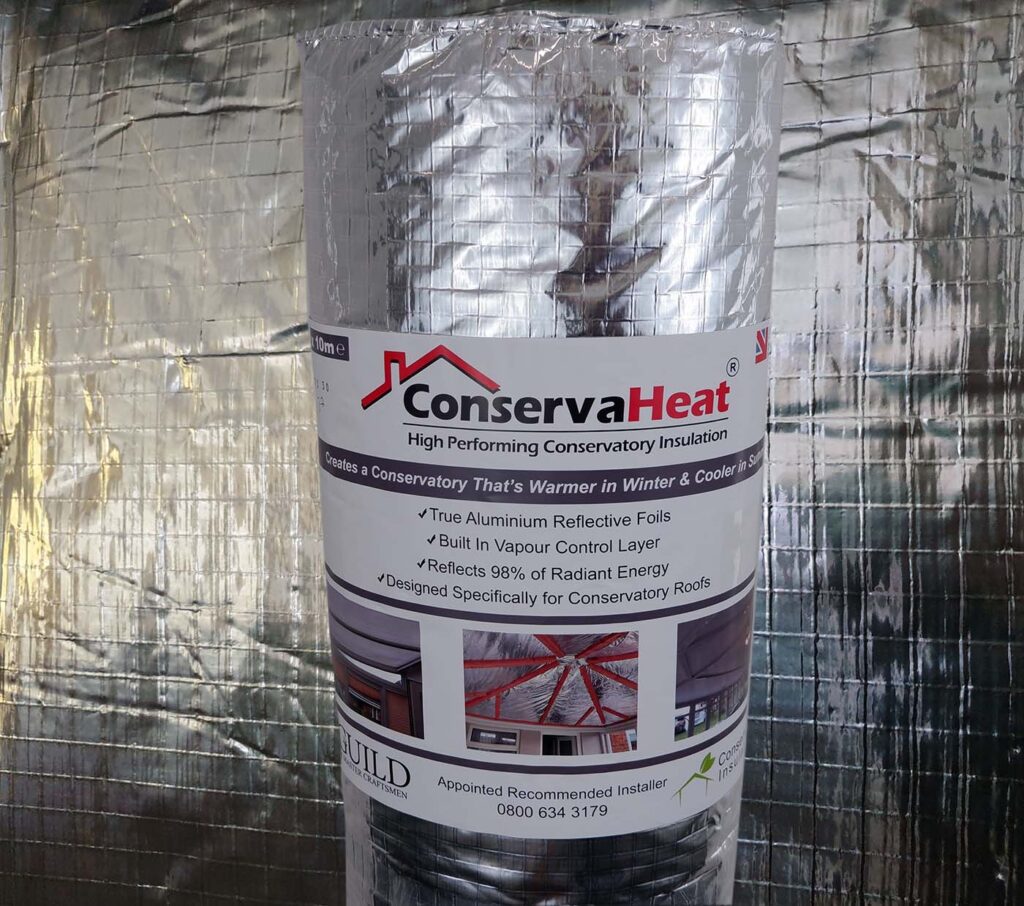 An Insulated Conservatory can add value to your home.
Having ConservaHeat installed in your Conservatory will significantly reduce heating bills.
ConservaHeat typically costs half the price of a new tiled roof but gives the same themal benefits.
Reduce your carbon footprint and negative affect on the planet with ConservaHeat.
Choose The Best
Why Choose ConservaHeat Conservatory Roof Insulation?
"We enquired about an installation and were visited by the sales team soon after. After an impressive demonstration of the insulation and how it works, we were given a quote, and an approximate time frame of when the work could be done. The work was planned for a day in July 2021 and our fitters came bang on time. Our conservatory is large but the work only took 3.5 hours. The team left our house clean and tidy. We are very happy with the work and can feel the benefit every day!"
Very pleased. The two fitters turned up on time and worked very hard in extremely hot weather. The job was carried out in a clean and professional manner. In addition to the conservatory being brighter, it is also cooler in the hot weather, warmer in the cold and aesthetically pleasing. Upon completion the fitters left leaving the house clean and tidy. Would highly recommend ConservaHeat Conservatory Roof Insulation.
Cannot recommended this company enough! Professional from start to finish. The initial meeting with the company representative explained everything we needed to know, how long the installation would take and what was involved. Communication about the installation was excellent, and on the day the guys installing were great. This has made a great difference to our conservatory and we use it more than ever. A great company, and a great price for the work.
We Are Always Here To Help
Get In Touch
Sevice Area
We have over 30 Survey & Installation teams placed strategically all over the UK meaning we offer a nationwide service.
If you have any questions regarding our ConservaHeat Conservatory Roof Insulation or would like a free quote please fill in all the details below and a member of the team will call you back within 1 hour.
Still Unsure?
What Else Can We Do For You?
We're Social!
Check out our social media pages below
Stay up to date with the latest from ConservaHeat Insulation