Installed by the UK's leading installers with over 1,000 5 star customer reviews

Over 1,000 5 star customer reviews
"Spotless"
"The installation team were very quick and efficient and left everything spotless. We are delighted with the product which has been much admired by friends and relations. Aesthetically it looks so much neater and tidier and has made a huge difference to our large conservatory. It also makes it more soundproof and warmer. So now we're able to use it all year round. So glad we had it done and by ConservaHeat."
If your looking for a Tiled Conservatory Roof, we can help. Here at ConservaHeat we specialising creating usable space from the space you already have that is literally going to waste. Our Composite Slate conservatory Roof Tile System does just that. We can transform the outside appearance of your Conservatory along with the thermal effectiveness of the inside. Tiles on the outside create a beautifull looking Conservatory roof whilst our ConservaHeat Conservatory Roof system in the inside add a high performing Insulation system that ensures you get the most out of your conservatory. This is the choice for those that want to really feel like they have had a new conservatory built!
Get A Quote
If you have any questions regarding our Tiled Conservatory Roof System or would like a free quote please fill in all the details below and a member of the team will call you back within 1 hour of working hours or first thing tomorrow.
What's On The Outside Counts
Tiled Roof Transformation
What's On the Inside counts
ConservaHeat Conservatory Roof Insulation
Gain An Extra Room That Will Add Value To Your Life
Benefits Of Our Tiled Conservatory Roof System
All conservatories with a rafter roof system are compatible with our system. This means that if your conservatory roof is made of timber, PVC-u or aluminium, we will be able to install our roofing system.
The Perfect Insulation system
Designed to keep your conservatory warmer in winter and cooler in summer, ConservaHeat insulation is a high performance true aluminium multi-layered blanket designed by insulation experts Ecohome-Insulation. Your conservatory can instantly be transformed in to an all-year-round usable space along with our iled roof system.
ConservaHeat Conservatory insulation is a true aluminium multifoil conservatory roof insulation system and is recommended to be Installed as a fully sealed system by professional & authorised ConservaHeat installation specialists. Conservatory Insulations operates a network of ConservaHeat installation teams. You pay ONLY 5% VAT when you have ConservaHeat installed.
The key benefits of ConservaHeat Complete Solution are –
Warmer in winter
Cooler in summer
Reduced rain and traffic noise
Reduced condensation
Only 5% VAT
10 year guarantee
Reduced sun glare
Energy saving
Reduced heating bills
Significantly cheaper than a new tiled conservatory roof
UK manufactured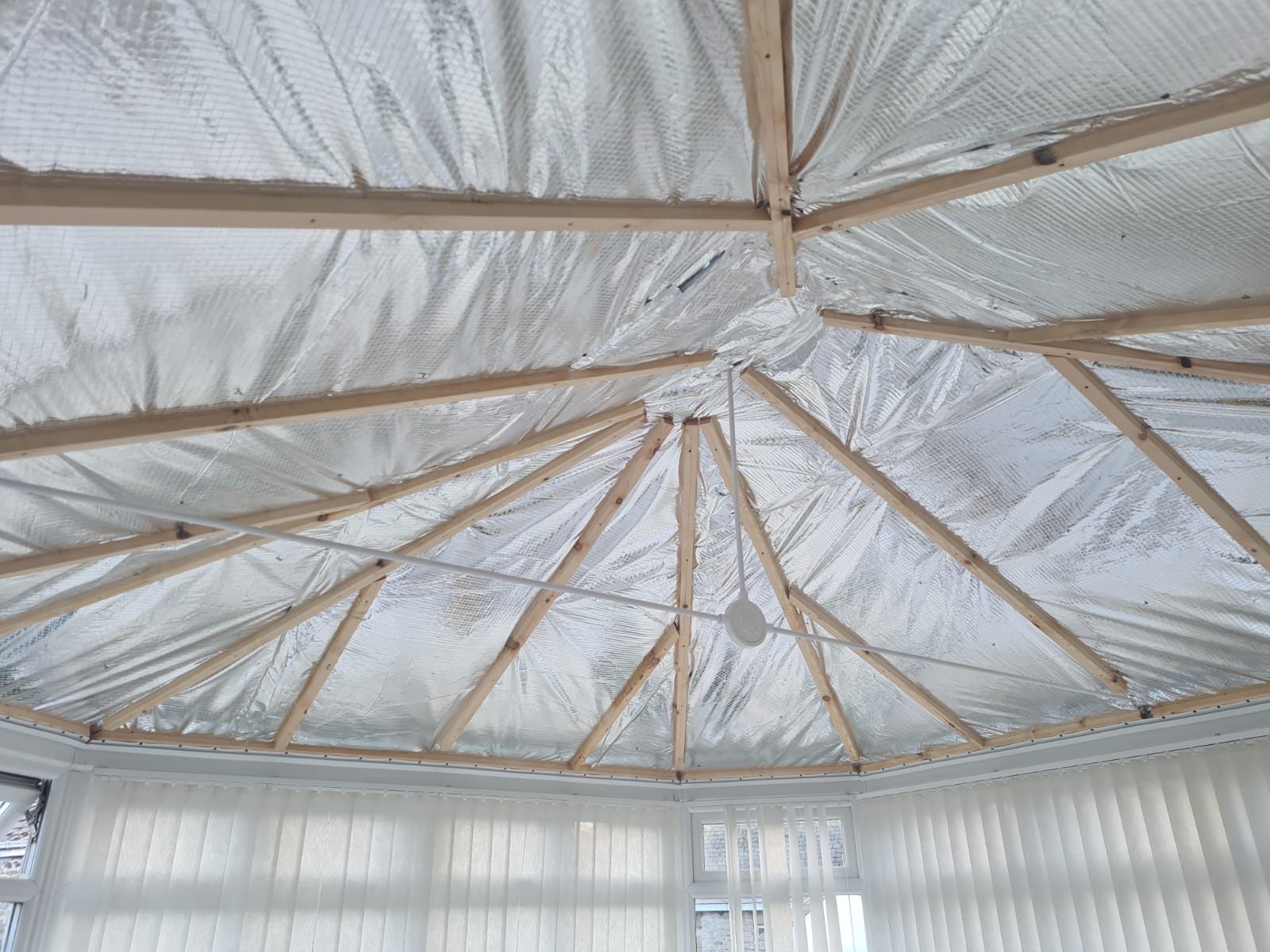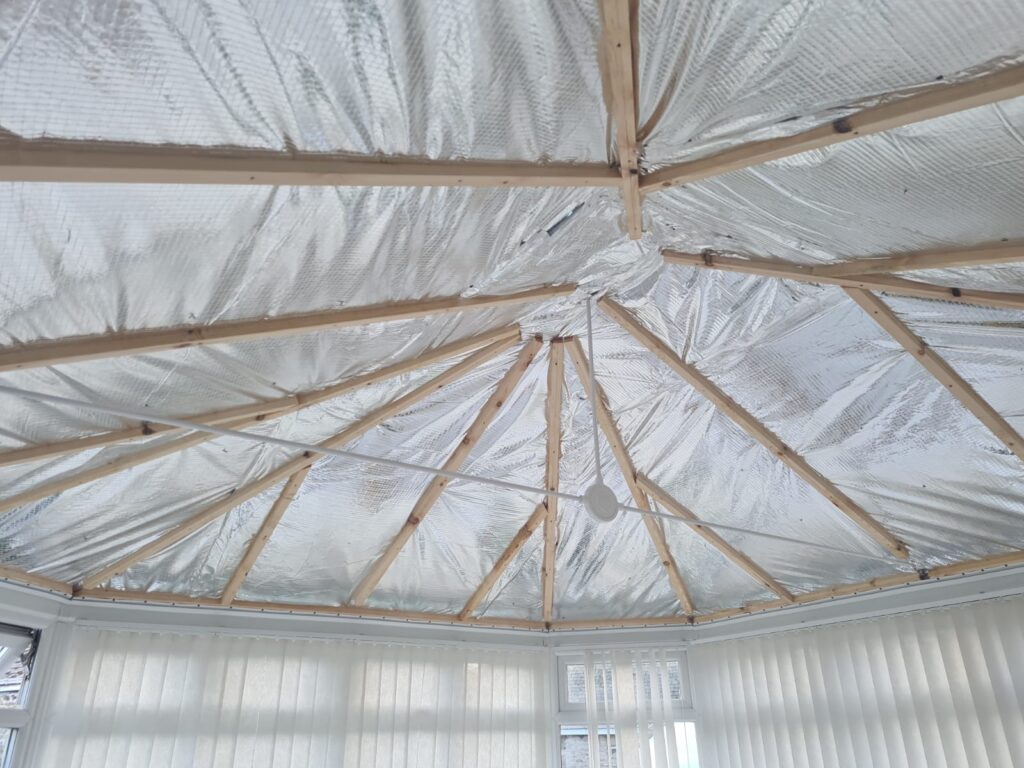 What Will You Use Your Conservatory As?
Renovating your conservatory Roof adds value to your home.
Employers often contribute to the cost of having the work installed to use as a Home Office.
The expected lifespan of Composite Slate Roof Tiles is 40+ years
An Upgraded Conservatory Roof is around half the price of the equivalent size home extension.
Pricing starts from just £9,000 plus vat.
Choose The Best
Why Choose ConservaHeat Conservatory Roof Insulation?
Definitely recommend. Service from beginning to end was top quality. The sales rep that came round to give us a quote was very knowledgeable and was able to show us how it worked with samples and heat. The job was done in one day by two workman which were friendly, polite and extremely hardworking. Really impressed. It has made such a difference to our conservatory, not only does it help with the temperature but looks lovely!.
Still Unsure?
What else Can We Do For You?
Our conservatory roof has been tiled and insulated to a remarkable standard.The fitting and insulation was done to the highest standard I have seen.The fitters Luke and Taylor were two hard working and very experienced chaps and after completing the job left everything spotless.It now looks stunning and would thoroughly recommend them.
ConservaHeat is a brilliant company. We had the ceiling of our conservatory installed in March, it looks really great and has made it so cozy and beautiful to look at, the work was carried out with no inconvenience or hassle by two great guys. Its made such a difference to us we decided to have the outside tiled as well, this was done on 2nd August by Luke and Taylor, two brilliant workers, polite, respectful and professional, we love the look of the conservatory now and so do our neighbours. We can now use our conservatory at any time of the year, no rain noise or searing heat we used to experience. Totally recommend ConservaHeat.
Our Location
Dronfield Business Centre,
21-22 Sheffield Road,
Dronfield,
S18 2DG
If you have any questions regarding our Insulated Tiled Roof system or would like a free quote please fill in all the details below and a member of the team will call you back within 1 hour of working hours or first thing tomorrow.
Still Unsure?
What else Can We Do For You?